Pillars of Eternity
About the Game
Royal Edition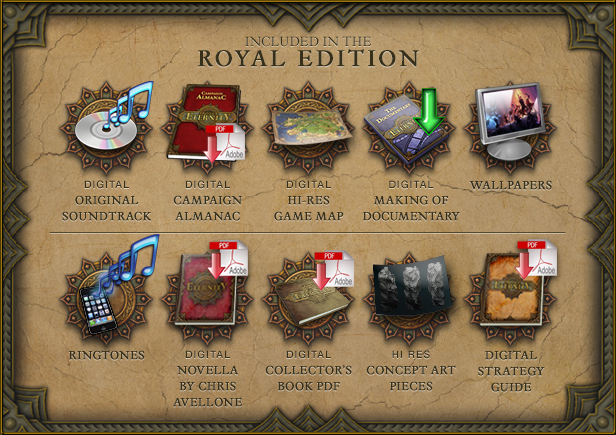 Pillars of Eternity Royal Edition:

Digital Novella by Chris Avellone:
A digital novella that focus on the backstory of some of the more interesting characters that players may encounter over the course of their travels in Pillars of Eternity.

Collector's Book PDF:
Digital version of the book that is being published by Dark Horse. It contains lots of information and art on the setting, story, and creatures of Pillars of Eternity. 112 pages.

Hi-res Concept Art pieces:
High resolution pieces of our concept art. Contains everything from concepts of areas and creatures to props and mood pieces.

Digital Strategy Guide:
Digital version of our strategy guide from Prima penned by the same writer of the Fallout: New Vegas guide. Contains all the information players will need to master Pillars of Eternity and reveal all of the content available.

Digital Original Soundtrack (included in Champion Edition):
This soundtrack contains many of the game's music tracks performed by a live orchestra.Contains at least 17 tracks in MP3 and FLAC formats

Digital Campaign Almanac (included in Champion Edition):
The Campaign Almanac contains everything related to the lore, history, and world of Eora as originally told by Hylsman Horag and revised by the Hand Occult. The 35 page almanac has commentary provided by a variety of authors and is an engrossing read for anyone keen to delve deeper into the world of the Pillars of Eternity.

Making of Documentary (included in Champion Edition):
A video documentary of the entire Pillars of Eternity development process - from beginning to end. Includes commentary from the developers and behind the scenes footage of game shows and events.

Digital Hi-res Game Map (included in Champion Edition):
A high resolution map of Eora's Eastern Reach. Details include locations that players will be traveling to and locations that they may be seen in future Pillars of Eternity products.

Wallpapers (included in Champion Edition):
High resolution and multi-monitor wallpapers of cool concept art and in-game artwork.




Ringtones (included in Champion Edition):
Short clips of sounds and music from Pillars of Eternity. Perfect as mobile ringtones.
About the Game
Pillars of Eternity:
Prepare to be enchanted by a world where the choices you make and the paths you choose shape your destiny. Obsidian Entertainment, the developer of Fallout: New Vegas™ and South Park: The Stick of Truth™, together with Paradox Interactive is proud to present Pillars of Eternity.
Recapture the deep sense of exploration, the joy of a pulsating adventure, and the thrill of leading your own band of companions across a new fantasy realm and into the depths of monster-infested dungeons in search of lost treasures and ancient mysteries.
So gather your party, venture forth, and embrace adventure as you delve into a realm of wonder, nostalgia, and the excitement of classic RPGs with Obsidian's Pillars of Eternity!
Main features:
Play as any one of six races: Human, Aumaua, Dwarf, Elf, Godlike and Orlan.

Utilize five core skills to overcome any situation: Stealth, Athletics, Lore, Mechanics and Survival.

Deep character customization: Build a character as one of eleven classes such as Barbarian, Chanter, Cipher, Druid, Fighter, Monk, Paladin, Priest, Ranger, Rogue and Wizard.

Sculpt your own story: Side with various factions using a reputation system, where your actions and choices have far reaching consequences.

Explore a rich and diverse world: Beautiful pre-rendered environments laced with an engaging story and characters bring the world to life.
€6.48
€17.99
You save €11.51 (64%)
Buy now
Redeem on Steam
This game requires a free Steam account to play.
Instant delivery
Your purchased Steam keys will be available immediately.