Conan Exiles
About the Game
BARBARIAN EDITION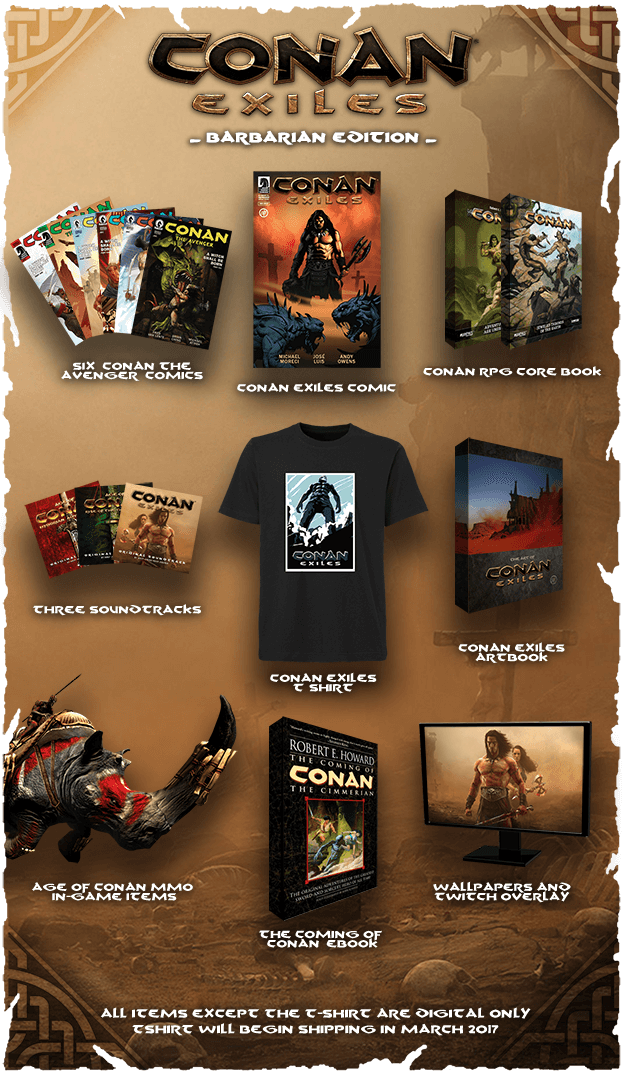 Conan Exiles – Barbarian Edition includes:
Full Conan Exiles game
Conan Exiles Digital Comic Book
A 16-page, custom made, full-color digital comic book created in collaboration with Dark Horse Comics. The comic book tells the story of Conan on one of his adventures in the Exiled Lands.
Six 'Conan the Avenger' Digital Comic Books
Six full-color digital comic books from Dark Horse Comics featuring the entire A Witch Shall Be Born story arc. These stories take place directly after Conan has visited the Exiled Lands.
'The Coming of Conan' eBook
Collected in this 496 pages eBook volume, profusely illustrated by artist Mark Schultz, are Howard's first thirteen Conan stories, appearing in their original versions – in some cases for the first time in more than seventy years – and in the order Howard wrote them.
Modiphius Conan Role-Playing Game Digital Core Book
This is Conan roleplaying as Robert E. Howard wrote it – savage pulp adventure battling ancient horrors in the Hyborian Age. This beautiful 368 pages full-color digital RPG book contains everything you need to play the popular pen and paper Conan RPG developed by Modiphius. Also included is a 50% discount to
'The Jeweled Throne'
optional digital supplement book.
Conan Exiles Physical T-Shirt
This exclusive physical
Conan Exiles
t-shirt is available for Barbarian Edition owners only. Shipments will begin in March 2017 and you will be notified by e-mail when you can claim your t-shirt.
Shipping and handling is included.
Age of Conan, Rise of the Godslayer, Conan Exiles Soundtracks
Listen to hours of amazing music created by the award-winning composer Knut Avenstroup Haugen. The critically acclaimed original soundtracks for Age of Conan and its expansion Rise of the Godslayer are sure to put you right into the Conan mood. The
Conan Exiles soundtrack
currently has two songs, but seven more will be released within the next few months.
Conan Exiles Digital Artbook
Go behind the scenes and discover some of the incredible production artworks developers used to guide their vision of the Exiled Lands. Concept art, renders, interface mockups, and more will give you a unique glimpse into how the visuals for
Conan Exiles
came to be.
In-game items for use in the Age of Conan MMO, including 7-day membership
*Items not for use in Conan Exiles
Before
Conan Exiles, Funcom
released the critically acclaimed and award-winning massively multiplayer game
Age of Conan
and after eight years the free-to-play game is still going strong. Included in the Barbarian Edition are several items you can use in Age of Conan: Savage Rhino mount (a very fast mount with no level or riding requirements), Exile title, Survivalist's Tools (increases the chance to find rare resources when gathering), Major Rune Stone of the Exile (30% critical damage for 8 seconds every time you make a critical hit, and also provides +25% Mastery (PvE AA) XP and +10% Prowess (PvP AA) XP passively). If you're a new player, you also get a 7-day membership!
Conan Exiles Twitch Overlay
Style up your Twitch stream with this custom
Conan Exiles
Twitch overlay. The overlay frames your stream perfectly and boosts the Conan vibe with about one hundred percent.
Conan Exiles Wallpapers
A collection of high-resolution
Conan Exiles
wallpapers, turning your computer desktop into a shrine for the greatest fantasy hero of all time!
* Comics, eBook, Modiphius RPG book, and Server Discount must be redeemed at third-party websites. To obtain your Barbarian Edition content, please click the 'Barbarian Edition' button on the main menu of the game. Your Steam web browser will open and take you to a web page where you can enter your e-mail address to receive your unique codes and information on where and how to get the content.
Please note that this content is only available in English.
About the Game
You are an exile, outcast and downtrodden, sentenced to walk in a barbaric wasteland where the weak are crushed and only the strong can live. Here you must fight to survive, build, and dominate the world alone on your own server, or with enemies and allies in online multiplayer.
Journey through a vast, seamless world filled with the ruins of ancient civilizations and uncover its dark history and buried secrets as you seek to conquer and dominate the exiled lands yourself. Start with nothing but your bare hands and forge the legacy of your clan, from simple tools and weapons to gigantic fortresses and entire cities. Enslave the bandits of the exiled lands to do your bidding by breaking them on the grueling Wheel of Pain. Sacrifice the beating hearts of your enemies on the blood-soiled altars of your god to seize true power and glory. Summon the colossal avatar of your god and see them lay waste to your enemies and their homes.
Just remember: in this brutal land of vengeful gods, bloodthirsty cannibals, and vicious monsters, survival is more than tracking down food and water. Explore mysterious ruins in search of treasure and knowledge, but beware the risk of your mind being corrupted by the dark forces of the world. Traverse vast sand dunes and seek shelter from scouring sandstorms sweeping across the burning sands. March into war against your enemies and unleash your savage fury in brutal combat. Go in unprepared and it will be your head rolling and limbs flying.
Conan Exiles
is not an empty sandbox. It is a world rich in history where you must discover the knowledge and secrets of ancient civilizations as you struggle to build your own.
SURVIVE THE BARBARIC WASTELAND

In the world of Conan the Barbarian, survival is more than being well-fed and hydrated. Here you must weather scouring sandstorms, save your mind from being corrupted and going insane, and fight vicious monsters from the darkest holes of the earth.
BUILD YOUR LEGACY IN A VAST, SEAMLESS WORLD
Journey through a huge, seamless world filled with danger and opportunity, exploring everything from sand dunes to towering ruins. Harvest resources to craft tools and weapons, then build everything from a small settlement to entire cities.
DISCOVER THE DARK HISTORY OF ANCIENT CIVILIZATIONS
Explore shadow-haunted ruins of ancient civilizations and discover great treasures and knowledge. Learn about the people who inhabited this world before and what led to their demise through inscriptions, wandering NPCs, and the environment itself.
CALL UPON THE POWER OF THE GODS

Cut out the hearts of your enemies and sacrifice it upon the altars of your god to earn their blessing. Summon and take direct control of huge, towering avatars and wreak havoc on your enemies as you crush their homes and drive them from their lands.
DEFEND YOUR LAND WITH AN ARMY OF SLAVES

Enslave the criminals of the exiled lands and force them to join your cause and defend your territory. Put them through the grueling Wheel of Pain to break their will, then turn them into archers, crafters, entertainers, and more. Find rare thralls for the greatest rewards!
DOMINATE YOUR ENEMIES

March forth to war against your enemies, use explosives and see their fortifications crumble to dust, then unleash your savage fury with brutal attacks that will see heads rolling and limbs flying. Find or craft a wide range of weapons and armor.
PLAY TOGETHER OR ALONE

Play alone locally or fight for survival and dominance in persistent multiplayer on public servers. You can also host your own server and invite others to join you in a world where you have full control of the rules and settings. Want to play with just handful of friends? Try co-op mode!
CONTROL YOUR EXPERIENCE

When playing alone locally or on a server you are the administrator of you have access to a range of in-game tools. These allow you to change progression speed, spawn monsters, turn yourself invisible, deactivate avatars, and much more. Be the dungeon master of your own server!
PLAY WITH MODS

Download
Conan Exiles
mods directly from the Steam workshop to customize your game experience. You can also download the custom
Conan Exiles
Unreal Editor and start creating your own!
Conan Exiles Twitter:
https://twitter.com/conanexiles
Conan Exiles Facebook:
https://www.facebook.com/ConanExiles/
Conan Exiles Reddit:
https://www.reddit.com/r/ConanExiles/
Official website:
http://www.conanexiles.com
€18.01
€29.99
You save €11.98 (40%)
Buy now
Redeem on Steam
This game requires a free Steam account to play.
Instant delivery
Your purchased Steam keys will be available immediately.